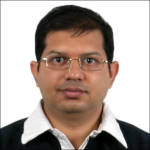 Kanwal has over 11 years of IT experience and spearheads consulting services within the Enterprise Architecture practice for Wipro Technologies in Bangalore. He specializes in helping CIO/CTO offices to optimize the returns on their IT investments by institutionalizing the IT Portfolio Management, Enterprise Architecture and IT Governance processes and tools. Most recently, he was engaged in establishing this capability within one of the world's largest financial services companies, offering banking, insurance, and asset management services, in the Netherlands. He is also the

principal architect of the software application which was institutionalized as an integral part of this capability across the organization in Belgium and the Netherlands.
Prior to it, he was serving as a Founder Director of IVAPS and was responsible for providing technology leadership and direction for software product development initiatives pertaining to Intellectual Property Management, IP Valuation and Enterprise Innovation Management. Prior to founding IVAPS, he was COO with CREAX and was responsible for overseeing software and consulting competency centers in India.
He has a Bachelor's in Electronics and Communication Engineering, from Delhi College of Engineering, India, 1994, and an MBA from IIM Calcutta, India, 1997.

Presentation
Enterprise Architecture Health & IT Portfolio Rationalization
Enterprise Architects anchor initiatives to keep IT aligned with an ever changing needs of a business organization. Quite often and in absence of a proper enterprise architecture governance strategy, they  tend to lose control over these initiatives. The lack of control renders severe negative impact on the underlying health of the enterprise architecture. In order to address this concern, Enterprise Architects usually lean on solutions like Enterprise IT Asset Management and IT Portfolio Rationalization. These solutions are ineffective and unyielding unless the architects follow a disciplined approach. Architects need an approach that can systematically discover these health issues and trace them to their plausible remedial measures. Hypotheses driven diagnosis of IT portfolio is one such approach. It involves formulating hypotheses, collecting necessary information for their validation and identifying the remediation measures for rationalizing the IT portfolio. Subsequently, these measures can be effectively implemented using a factory model based on the business priorities of the organization.

return to program