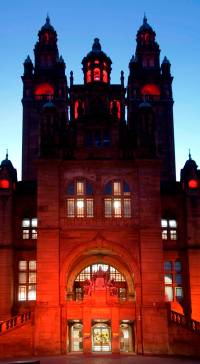 The dinner event will be held at the Kelvingrove Art Gallery and Museum, which houses one of Britain's finest civic art collection. During pre-dinner drinks delegates may view part of the collection.
The buffet dinner will provide delegates with an opportunity to sample a selection of traditional Scottish food while enjoying music by a Ceilidh band.
Tickets are required for the Dinner Event. The event is included in the Full Pass. An additional fee (see Fees) applies to those with Day or Student Passes, and guests.
Delegates are asked to gather at the Radisson's main entrance from 6.00 pm for a prompt departure at 6.15 pm
Buses will return from Kelvingrove between 9.30 pm and 9.45 pm.
Dress Code: Smart casual
Visit web site