Business Transformation through
Enterprise Architecture


Conference Presentations
These are available only to those who registered
for the conference, using the user name and
pass word mailed to you by Biner
Plenary Keynote Speaker
Dr. Alexander Osterwalder
"Align Strategy, Process and IT Through Business Model Architecture"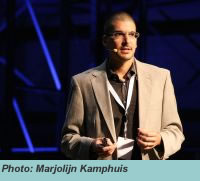 Dr. Alexander Osterwalder is a freelance author, speaker and workshop facilitator on the topic of business model innovation. He will show how we need to elevate the discussion away from business process models/architecture towards the business model architecture in order to have a clear strategic discussion, transform a company, and leverage IT to its full potential.

Dr. Osterwalder coaches executives, entrepreneurs and consultants around the globe to help them better understand how they can transform their business models. Dr. Osterwalder has developed a systematic approach to business model innovation, which is applied in companies such as IBM, Deloitte, Ericsson, Telenor and more. More information

Business Design is one of the top priorities for business executives today.
New possibilities arise through innovations in business models, technologies, knowledge and combinations thereof. This requires new tools to stay successful in managing and transforming the business as it evolves with the markets.
Enterprise Architecture is the only approach that encompasses all management disciplines in harvesting, categorizing and analyzing the business in all its states.
Sponsorship and Exhibiting
at this Conference
Contact us for more information on sponsoring or exhibiting at the conference.



This conference will include ...
How enterprise architecture can help drive business transformation
How to connect business models with operations via enterprise architecture
The role of enterprise architecture as the provider of unique perspectives on the future of business
Best practices based on real-life experiences from industry professionals
How Enterprise Architecture connects with and enhances other management disciplines
The role of TOGAF™ 9 in delivering operational efficiencies and real business benefits

[ Read about the above topics in more detail ]
Target audiences ...
Excellence Professionals
Strategy & Planning Managers
Organizational Development Professionals
CIOs/CTOs
IT Directors and Senior IT Managers
Enterprise Architects
Architecture Practitioners & System Designers