"Evolving EA from IT to Business" — Enterprise Architecture Practitioners Conference Plenary
9:00 - 9:05
Welcome
Allen Brown, President & CEO, The Open Group



Allen Brown, is President and CEO of The Open Group.
The Open Group is a global consortium that enables the achievement of business objectives through IT standards — it makes standards work.
9:05 - 9:45
Air Force Architecting Concept of Operations – using architecture to support decision making
As EA evolves from IT-centric to Business focused the architecting community must start and end its process with understanding the business imperatives and the needs of business stakeholders. This is accomplished thru engagement of the decision making processes of the business by the architecting community. This presentation will focus on the modular methods that the United States Air Force has employed to foster the conditions required for impactful architecting engagements.
Terence Blevins, Lead Architect, MITRE Corporation


Mr. Blevins is a department head at MITRE. He is a Board Member of The Open Group, representing the Customer Council.
He has been involved with the architecture discipline since the 80s, much of which was done while he was Director of Strategic Architecture at NCR Corporation. He has been involved with The Open Group since 1996 when he first was introduced to the Architecture Forum. He was co-chair of the Architecture Forum and frequent contributor of content to TOGAF including the Business Scenario Method.
Mr. Blevins was Vice President and CIO of The Open Group where he contributed to The Open Group Vision of Boundaryless Information Flow™
He holds undergraduate and Masters degrees in Mathematics from Youngstown State University. He is TOGAF 8 certified.
9:45 - 9:50
Spotlight: Security Forum
9:50 - 10:30
EA Evolution from IT to Executive Board Conversation
A Retail Industry success case of changing the conversation with business staff, going from a 100% SOA Store and a cross channel strategy used as POC in one country to a Retail Industry Model using a cloud computing in 5 countries in South America.
A story of giving value using EA thought provoking conversations about the future between business and IT, and a conversation about how SOA, ARTS, Cloud computing and many other IT terms are now part of the Retail business conversation.
Leonardo O Ramirez Gonzalez, Latin American Chief Enterprise Architect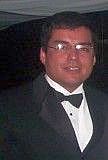 A trusted ENTERPRISE Architect with 13 years of successful experience applying Enterprise architecture and Industry Reference Models to develop effective Business - IT Aligment Projects, using SOA as main enabler. Skills to lead end-to-end implementations with effective leadership, define customer business directions, create solutions, integrate market trends and industry point of view on customer environment, going from assesments and business cases to final executive presentations to articulate IT portfolio into business strategy.
10:30 - 11:00
Break
11:00 - 11:05
Spotlight: ArchiMate Forum
Harmen van den Berg, BiZZdesign
11:05 - 11:45
10 Commandments of Enterprise Architecture – For Whom the Bell Tolls? Value of EA to the CxO
Junkyo (Jack) Fujieda, President & CEO of ReGIS Inc. and Chairman, The Open Group Japan


Junkyo (Jack) Fujieda, the founder and CEO of ReGIS (Research Environment of Global Information Society) Inc., a global research and consulting firm, leads all activities related to The Open Group in Japan.
Since 1998, Jack has covered academia, media, government research relationships, membership programs, and, most importantly, promoting the value of open standards certification, and proactively projecting The Open Group brand. Jack achieves this through technical forums that promote and educate executives about The Open Group's activities. Japanese end-users and vendors benefit from these proactive activities, both in the Japanese forums and The Open Group's global conferences and forums.
11;45 - 11:50
Spotlight: Architecture Forum
11:50 - 12:30
Enterprise Architecture – Getting Buy-in From the Business Line
Chris Forde, VP Enterprise Architecture & Membership Capabilities, The Open Group


Chris Forde, is an Enterprise Architect. He has been an active member of the Open Group Architecture Forum since 2005. He joined the Open Group in March 2010 as VP Enterprise Architecture & Membership Capabilities.
During his career, Chris has held leadership roles in business architecture, application development, information management, and technology operations. He has been company representative to the Architecture Forum (2006-2009), chair of the Open Group Architecture Forum (2007 & 2008), and VP of Strategy and Architecture at American Express (2004-2010).
12:30 - 2:00
Lunch