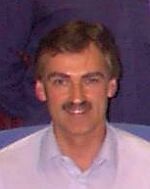 Johan currently holds the position of Head of Information Management and Strategic Projects at Anglo Platinum, where his work in Information Management has been internationally recognized by Gartner and others. He is also the architect behind Anglo Platinum's Industrial IT strategy. Prior to his engagement at the Anglo American group, Johan was the Projects Director at Citibank South Africa, responsible for business process reengineering and the implementation of a global Internet banking system for corporate banking solutions across 37 countries in central and eastern Europe, Middle East and Africa. He was also the architect behind the current South African coinage system and the chief design engineer of the integrated manufacturing facilities of the SA Mint Company, which he later managed as General Manager. Johan holds a B Engineering (Metallurgy) degree from the University of Pretoria.



Presentation
Enterprise Architecture considerations governing the implementation of an Industrial IT strategy at Anglo Platinum
Integrated metallurgical complexes require accurate real time information and integrated automation strategies for optimal performance. This presentation explores the importance of a structured approach to Enterprise Architecture as the basis for designing a sustainable and modular approach towards delivering an Industrial IT strategy. The deployment of such a strategy at Anglo Platinum, the world's biggest Platinum miner, is used as a case study to explore how these principles are applied in a practical manner.

return to program