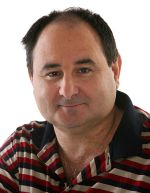 Ayal graduated with a BA LLB from the University of Witwatersrand in 1986. He was then admitted to the Israeli Bar as an advocate in 1989. He also has a degree in Computer Sciences from John Bryce Academy in Israel in 1995.
Ayal worked as an Oracle developer at the Israeli start-up Aptech. In 1997 he relocated to South Africa. He worked as a senior developer (Visual Basic) at Financial Software Solutions. He was then appointed as Chief Technical Officer at Lasso New Media and went on to become Managing Director of Grey New Media Advertising.
In 2000 Ayal set up one of the first on-line gambling sites, LiveBet Pty Ltd. LiveBet was acquired by eCompany and eventually sold to a number of large global sport-betting outfits. Between 2002 and 2003 he started Orchestrating Components and became chief technical consultant to South African Post Office and was responsible for the technical aspects of Electronic Transaction legislation.

In 2004 Ayal started PDEV specializing in consulting for enterprise development on the Microsoft .Net platform. He was nominated as Microsoft South Africa's Patterns and Practices evangelist and was nominated to Microsoft's Smart Client Software Factories Board of Advisors. He is the only Microsoft Solutions Architect MVP. In the past 3 years has designed, consulted and developed some of the major Microsoft enterprise developments in South Africa.