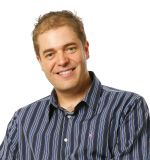 Carl holds a Bachelors of Commerce and an Honors degree in Informatics from the University of Pretoria. He began his career at RCI in 1999, employed as a CRM Analyst. Carl was recruited by Knowledge Factory as a Consulting Analyst in 2002. Working in diverse industries, he scoped, developed and managed a wide variety of BI projects. He was eventually promoted to BI Solutions Manager.
Carl joined Real IRM as an Enterprise Architect consultant in 2007. Drawing on his years of experience in BI and an intimate knowledge of the challenges organizations face in terms of their information needs, Carl now assists clients with Information Architecture projects in support of strategic business objectives.

Presentation
Zen and the Art of Information Architecture
Amongst the various Enterprise Architecture domains (Business, Information, Technology, Data), Information Architecture (IA) occupies a unique position as both a domain of EA, and an end-product of EA. When creating artifacts, in any EA domain, we apply the principle of Information Architecture:  The art and science of expressing models or concepts for information, and designing shared information environments. But IA is also a fully fledged domain in itself, by encapsulating and exposing the flow of information throughout organizations, and creating `knowledge platforms'. In exploring the duality inherent in IA, Carl Reyneke takes a detour via Eastern philosophy. Don't miss this enlightening discourse on Zen and the Art of Information Architecture.

return to program