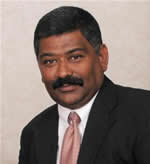 Alvin Paules has been in the IT industry for 32 years. He has spent 50 percent of his career working for IT vendors, and the other 50 percent working for "Users" of IT across multiple industries, including banking, manufacturing, retail, health care, "oil and gas", transportation, insurance, telecommunications, mobile commerce and, more recently, mining (specifically PGM).
He is employed by SAP Africa as Chief Technology Architect and is focused on helping SAP customers and partners to understand the SAP Business Process Platform strategy and how to exploit this capability for specific business benefit. He works with SAP customers in South Africa, helping them with their "roadmaps", architecture, governance, E-SOA and technology exploitation initiatives.
Alvin sincerely believes that Enterprise Architecture is the vehicle to achieve alignment between Strategic Execution and IT and that whilst SOA is an exciting technology it is merely a new way of exposing application patterns for "Agility".




Presentation
Changing the conversation from the "Cost of Enterprise Architecture" to "The Value Realization of Enterprise Architecture"

This paper will briefly discuss:
Situations and typical problems experienced with justifying the investment in Enterprise Architecture.
An opinion on where we are "generally" in South Africa relative to work done in other parts of the world
How to clarify the role of Enterprise Architecture within your organization – determining the game plan for EA with your specific circumstance. A discussion on the different options with regards to organization & EA maturity. Different situations require different, yet appropriate positioning.
How to integrate Enterprise Architecture with Business Strategy via linkages to "drivers" and "levers". Possible models for "Value Realization from Enterprise Architecture". This will relate to the strategic choices made by the enterprise and the options and constraints that EA will then design into the future Operating Model of the organisation
Finally a model will be presented and discussed which illustrates a Cost/Benefit Analysis, ROI, cash-flow etc.

return to program