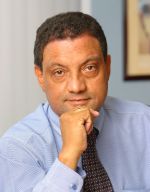 Mark Harris joined IBM as an engineer in 1981. Since then, he has

worked for IBM in management, consulting, sales and marketing and technical management positions in all divisions of the company.
Moving from IBM SA Director of Operations to Country General Manager in December 2000, Harris' strengths in business management, strategy development and start-up businesses as well as his exceptional knowledge and appreciation of IT industry issues make him the obvious person to head up an organisation which will make a major contribution to moving South Africa from an emerging economy to pervasive computing and e-business. Working at a national government level, he was invited on to the South African delegation which discussed with US representatives the privatisation of South African state assets. He also served on the ICT Charter Committee. Harris was President of the American Chamber of Commerce in South Africa through 2004, and continues to serve as a member of the board of directors.



Presentation
Strategic Trends in Innovation and Technology in a Globally Integrated Enterprise - Linking Business and IT
A new class of truly agile organizations, called globally integrated enterprises (GIE) are winning the race in their respective industries. These companies embrace service oriented architecture for greater efficiencies, cost savings, and productivity. They develop innovative products, services and business models that often transform the very nature of their industry. They make quick, accurate decisions, based on real-time information. These winners are able to effectively sense change and quickly respond to it with informed changes to their business model. (They are On Demand Business 's) SOA is the DNA of GIE and an On Demand business and a key strategy of IBM to help our clients increase the flexibility of their business and IT

return to program