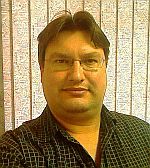 Gerhard Botha is a Chemical Engineer by trade, but his formal career has always been in IT. He has 6 years of architecture experience and 10 years of general IT experience.
He currently carries the overall accountability for the Technology Architecture domain in Sasol, with specialization in the Platform and Connectivity domains.

Presentation
Aligning the TOGAF ADM with Sasol's project methodology: A case study
Sasol, South Africa's largest industrial company utilizes a home grown, mature and deeply embedded project methodology. This project methodology is called Sasol's Business Development and Implementation Model (BD&IM). This is not an IT project methodology; IT is a mere component of this comprehensive enterprise project methodology. On the other hand the Sasol Enterprise Architecture Team, through its mandated governance committees, has accepted TOGAF as its de facto architecture framework. The challenge for this team was thus to align the TOGAF ADM with the BD&IM through appropriate positioning within the stage gates and through the design of appropriate deliverable templates in order to practically implement this. This presentation covers the process followed, the mapping between the methodologies, the philosophy behind the templates and the detail content of the templates.

return to program