Secure Architectures
The Open Group's Enterprise Architecture Practitioners Conference in Budapest will open with a plenary day focusing upon how different aspects of Security Architecture all contribute vital roles in delivering safe and secure enterprise architectures. We need these architectures to deliver effective information security infrastructures that will match continually increasing business demands for secure IT operations in our open, Internet-driven, globally networked world.
Topics include:
the business case for why we need to evolve our security architectures
the typical role of the security architect today in influencing enterprise architectures
how the role of the security architect currently addresses governance issues regarding the law and regulatory regimes
the concept of a governance team that includes security architects and information technologists, policy makers, and representatives from corporate legal, corporate policy, risk management, auditors, and business management
a framework for the security architect to use in working with a governance team to balance competing demands in ways which achieve the business goals
deperimeterization and how this will change the internal topology of most IT structures
Sponsorship / Exhibiting
Contact sponsorship@opengroup.org for more information on sponsoring the gala dinner event, cocktail reception or exhibiting at the conference.


sponsorship information
About the Open Group:
The Open Group is a vendor-neutral and technology-neutral consortium, whose vision of Boundaryless Information Flow™ will enable access to integrated information, within and among enterprises, based on open standards and global interoperability.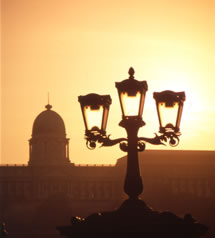 The Plenary
The Monday plenary will be followed by parallel tracks on the Tuesday and Wednesday.  The tracks will cover key security challenges, illustrated with case studies.
Session highlights include:
Delivering inherently secure communications
How to achieve mutual trust in this age of phishing and spamming; trust on e-mail systems; trust when visiting web sites, etc.
Federated Identity: trust in what you don't manage
Controlling data leakage: solutions for data management; data control, data protection, data watermarking, data encryption - how to select the right solution
Securing your SOA environment
Other sessions focused on enterprise architecture topics:
Role of Enterprise Architecture in enterprise and business transformation
Architecture Management
Enterprise Architecture Governance
Architecture Certification and Professional Development
Semantic Interoperability
Utilizing TOGAF™ to Architect Business Transformation
Architecture Tools in Practice
Enterprise Architecture Development