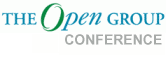 Summaries are available to everyone
Presentations are available to members of The Open Group and conference attendees

Boundaryless Information Flow: Managing the Flow
Enabling secure, reliable, and timely access to the right information, unlocking the information, and overcoming the boundaries within and between organizations has become the overriding requirement for customers of IT products and services.
Vendors are responding with their own interpretation of this requirement. With terms like adaptive, seamless, and on–demand computing, workflow and process management solutions are becoming more visible in product offerings. The Open Group vision of Boundaryless Information Flow is a vendor and technology-neutral way of describing what today's business IT environment needs in order to deliver.
As organizations everywhere strive to do more with less, it is important to be aware of best practices, what others are doing, their experiences so far, and what is coming in the near future. This conference will help you gain valuable information from customers, vendors, and analysts to help you better manage the flow in your organization.
Plenary speakers include
Jamie Clark
Manager for Technical Standards Development, OASIS
Christian Devillers
Coordinator of IDA Common Tools and Techniques, CIRCA support, Middleware, and IDA Interoperability Framework, European Commission, DG Enterprise, IDA Programme
Steve Harriman
Vice President, Marketing
VIEO, Inc.
Ed Harrington
Principal Consultant and CEO, EPH Associates LLC
Ivan Herman
Head of Offices, World Wide Web Consortium
David Lacey
Director, Security and Risk Management, Technology Services and Innovation, Royal Mail Group
Andy Leigh
Information Security Strategy Manager, Technology Direction, BBC
David McCaskill
Section Manager - GBS Infrastructure Services - Global Security Solutions, Procter & Gamble
Mark O'Neill
Chief Technical Officer, Vordel
Tim Parsons
Head of Information Security - Future Systems, BAE SYSTEMS
Dean Richardson
Vice President of Technology, MessageGate Inc
Joao Serras Pereira
Director - Innovation Relay Centre,
ISQ
Skip Slone
Principal Systems Architect, Lockheed Martin Corporation
Gavenraj Sodhi
Product Manager, eTrust Security Management Solutions Computer Associates
Robert Walker
NCC Project Director,
Department of Defense's Global Information Grid (GIG) Enterprise Services (GES) initiative,
Defense Information Systems Agency (DISA)

Why managing information flow is relevant to your business
Managing this flow of information necessitates the automation of business processes, which enables automation of business activities to help people capture, organize, and visualize information about the business environment.
Managing the flow of information enables business- or mission-focused decision-making.
Managing information flow ensures effective and consistent transfer of information between process activities, reducing manual re-entry errors and improving efficiency.
To deal with the diverse elements of managing information flow, an environment requires an open set of information flow services.
Information flow services support both applications and processes, and allow those applications and processes to be focused on the business or mission of the organization, as opposed to dealing with the idiosyncrasies of the computing environment.
Information flow services must also support the monitoring and control of the flow and capture statistics for process and performance improvement.
Information flow services should enhance productivity by making computer systems active components of the business process and eliminating much of the manual coordinating activity that goes on in an organization today.
Information flow services must enable workers connected over a network to collaborate and coordinate their work.

What will you learn?
• What enterprises are doing to get information to flow systematically where it is needed
• What security issues arise when boundaries become permeable
• What organizations are doing to tackle these security issues
• What suppliers are providing to help customers achieve Boundaryless Information Flow
• How standards and standard methodologies support this transition
Who should attend?
CIOs, CTOs, & CSOs • VPs of IT e-commerce • Directors of Application Development • Directors of Partner Relationships • IT/IS Managers & Architects • Data Warehouse & Business Intelligence Managers • Application & System Integrators • Business Process Analysts • Analysts & Consultants • Vendors & Venture Capitalists