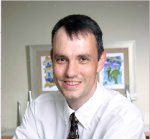 Paul van der Merwe holds a Bachelor of Science (Honours) (Computer Science), a Bachelor of Commerce (Honours) (Accounting), and a Masters of Commerce (Computer Auditing and Consulting). He is a Cartified TOGAF Practitioner, Certified Internal Auditor (CIA) and Certified Information Systems Auditor (CISA).
Paul is an enterprise architecture consultant from Real IRM

. He has a diverse background, beginning as a software developer, moving into IT auditing and then focussing on enterprise architecture and its related disciplines.
Over the past ten years, Paul has been involved in various major enterprise architecture initiatives in diverse industries - financial services, manufacturing, telecommunications, retail, mining and energy. He designs architectural framework solutions based on established enterprise architecture frameworks using industry accepted techniques and notations. These solutions provide the clients with the business, information, data, application and technology perspectives necessary to form the overall enterprise architecture.

Presentation
EA Product Focus Delivers Value
Short term delivery of value through Enterprise Architecture is possible! By understanding the customer and adopting a product focus it is quite feasible to deliver Enterprise Architecture products of value to the business within three months, with the added benefit of creating demand for more. This paper/presentation would illustrate this by addressing a few caste studies across a number of South African companies.

return to program