Enterprise Architecture delivers demonstrable business value

Discover how to navigate your organization through the stages of Enterprise Architecture maturity, in order to maximize value every step of the way.
Enterprise Architecture when effectively implemented can provide sustainable competitive business advantage to the global enterprise. But effective implementation of a business-appropriate Enterprise Architecture capability must address a number of key challenges:
How to ensure that Enterprise Architecture is an initiative seen as directly related to business value, and becomes championed by the business areas rather than by IS/IT.
How to balance the need to deliver immediate business value while developing a longer-term strategic capability to make the organization more responsive to change and ensure achievement of strategic competitive advantage.
How to "demystify" the Enterprise Architecture development process, and make the internal business case for moving from narrowly-defined technical architectures to holistic Enterprise Architectures.
How to implement Enterprise Architecture modelling and documentation standards across multiple projects to reduce costs and ensuring effective re-use of models.
How to move from a static business and IT strategy to a dynamic, "living" strategy that is continually maintained by the Enterprise Architecture process.
How to use Enterprise Architecture to support Knowledge Management, Risk Management, Organizational Design, and Enterprise Transformation, and increase the business value derived from mergers and acquisitions.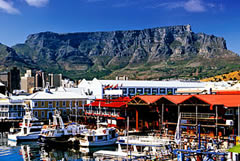 V&A Waterfront, Cape Town, South Africa


About this conference
This event focuses on the use of Enterprise Architecture for the effective creation of real business value. It provides experience-based insight into approaches and methods that have proven effective in developing enterprise architectures around the world. Just as importantly, it also aims to clarify the limitations that exist in this still immature field.
The agenda for the Cape Town APC is divided into an opening-day plenary and a second day of parallel tracks, each addressing a number of key aspects of enterprise architecture. Newcomers to the EA discipline will be able to focus on how to accelerate the establishment of their EA capabilities so as to gain tangible benefits. Seasoned enterprise architecture practitioners will be able to focus on the need to extend their practices to enable new forms of value delivery.
Share your experience in the Enterprise Architecture field with your peers! We would like to hear your success stories and learn from your problems and pitfalls. Please submit a 100-word synopsis of your topic to speakers-capetown@opengroup.org. All presenters will be required to pay for their own travel, accommodation and conference fee. The speaker's early-bird rate is just ZAR 2592 / $US 360 excluding VAT for the full pass.