Conference Proceedings
Summaries are can be accessed by everyone, Access to presentations is restricted to members of The Open Group and conference attendees.


here


Conference outline
WORKSHOPS
Making the business case for enterprise architecture
How to create and sell a compelling architecture vision
How to use enterprise architecture for effective IT outsourcing
Effective strategies for architecture implementation and compliance
TUTORIALS
Understanding the core capabilities on which to focus when introducing enterprise architecture
How to set up an internal enterprise architecture practice
Effective architecture governance strategies
Understanding how to integrate key technologies into enterprise architecture
CASE STUDIES
Enterprise architecture frameworks in practice - understanding what different frameworks have to offer, and how to use the best of each
Tools for enterprise architecture -- the capabilities of existing tools for enterprise architecture, and innovative approaches to tool interoperability
Enterprise architecture in specific vertical sectors: government, commercial and finance·
EXHIBITIONS
Throughout the event there will be exhibitions from leading architecture tools vendors, providing opportunities for hands-on, one-on-one discussions and demonstrations

What you will experience
·Participation in highly practical workshops on best practices in the enterprise architecture process
Review of in-depth case studies from organizations which put theory into practice, learning from them what works and what doesn't
Demonstrations and presentations on leading tools supporting open methods for enterprise architecture
Networking with leading architecture experts, vendors, and peers in the enterprise architecture field

Who should attend?·
Enterprise architecture practitioners
Chief information officers and senior management responsible for IT and enterprise architecture oversight
Designers and managers of IT infrastructures
Product managers and engineering managers of architecture tools
Systems integrators
Procurement professionals responsible for selecting IT products and services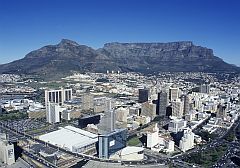 Cape Town International Convention Centre - foreground

larger image

About this conference
Enterprise architecture is becoming increasingly recognized as an essential function in modern large-scale organizations, both in the commercial and the government sector. Besides providing the strategic context for the evolution of information technology within the enterprise, it also enables organizations to maintain the right balance between business innovation, in response to the changing demands of the business environment, and the integration needs of the extended enterprise. Individual business units can innovate safely in the pursuit of competitive advantage; at the same time, the needs of the organization for an integrated, business-driven IT strategy are addressed, permitting the closest possible synergy between business and IT across the extended enterprise.
This event provides experience-based insight into the approaches and methods that have proven effective in developing enterprise architectures around the world. In this event, The Open Group provides a forum for all key constituencies and stakeholders to come together and explore new ways to solve problems, share best practices, and network with peers.
The conference will take a highly practical, hands-on approach, combining presentations and discussions on best practices with workshops, case study reviews and demonstrations of the latest tools.Just as importantly, it aims to examine the core competencies that are required to enable the enterprise architect to view both the business need and the solution implementation side of a problem; to clarify the skill and experience requirements for developing and implementing enterprise architectures; and the limitations that still exist in this immature field.

About the organizer
The Open Group is uniquely qualified within the IT industry to bring together the buy side and the supply side to agree on the real requirements that the industry needs to address, and effective methods of addressing them.
Within the architecture domain, The Open Group has been active for over a decade, developing and making freely available an architecture framework and methodology - TOGAF. Developed by The Open Group's Architecture Forum, TOGAF is today accepted and used around the world as a genuinely open framework and method for enterprise architecture.
More recently, The Open Group has introduced its IT Architect Certification program -- the premier, global certification program for certifying skills and experience in the IT architecture community. Based on the proven best practices in the industry, this program sets an independent, industry-wide standard for IT Architects and creates a foundation for trust between suppliers and customers.